Hygiene in a Dental Clinic
Keeping the dental instruments and the office clean at all times is of utmost importance. We take all the necessary measures in order to keep everything sterile and avoid any cross contamination or infection. Aside from the instruments, every dental office should pay a lot of attention to the surrounding surfaces and counters that are used every day. We take every single hygienic measure in order to keep our patients safe.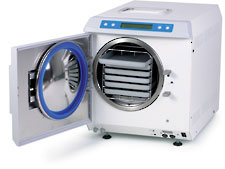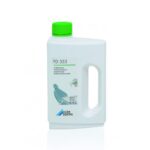 Before putting them in the autoclave, the instruments have to be cleaned properly. They require a chemical sterilization that will prepare them for the following step. For that purpose, we use the ID 212 concentrate by Duerr Dental. It can be applied to different types of instruments including surgical and rotating ones. This concentrate is extremely effective against bacteria, viruses and fungi. Another thing we do to make sure that we are following the plan is to pack the instruments before putting them in the autoclave. There are special sterilization wraps, pouches and containers, were instruments are placed. From there on, they are safe and can go in the autoclave.
In our dental clinic we have two types of autoclaves: Hallo Securiklav Type D and Melag Euroclave 29 VS. The first one is a small autoclave with very high efficiency. The Melag Euroclave 29 VS uses both pre-vacuum and vacuum methods to provide a complete sterilization of the instruments. It can also be used for some textiles.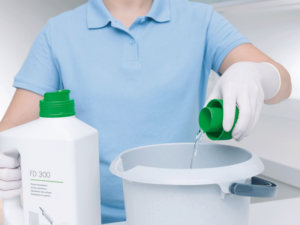 The FD 300 by Duerr is used for disinfecting the working surfaces in the dental office as well as several objects. In order to keep everything perfectly clean, we use the best products available on the market. Because of the number of patients, we treat every day, all of the instruments and dental units are disinfected and sterilized. The FD 300 is an efficient solution that kills bacteria, fungi and viruses. That way we can be sure that we avoid infections and unwanted risks. The FD 333, on the other hand, provides quick disinfection.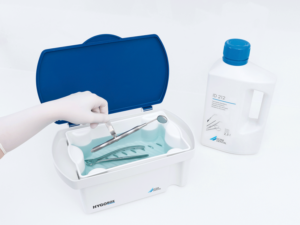 When it comes to suction instruments, we make sure that they are also properly disinfected. For that purpose, we use the Orotol Plus. It is a special concentrate that should only be used for contaminated suction units. They also get contaminated during work, so for the safety of our patients we make sure they are clean at all times. The Orotol Plus has a bactericidal and virucidal effect.